Meet Dr. AE Miller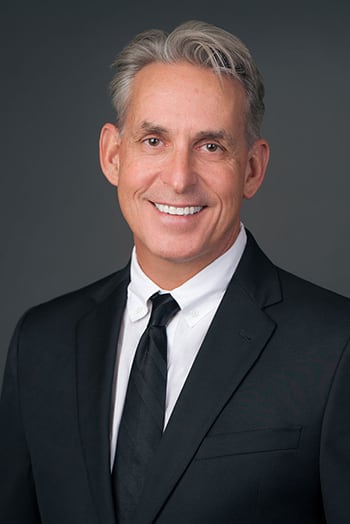 Dr. AE Miller has joined with Dr. Landon Libby to help create a team that is passionate about taking care of people. Dr. Miller has been practicing dentistry and taking care of people for over 25 years. A native of Cleveland Ohio and a graduate of Case Western Reserve University Dental School, also located in his hometown, Dr. Miller remains an avid sports fan who still follows the Cleveland Browns and his Cleveland baseball Indians.
Early in Dr. Millers career he learned to understand the value and importance of building relationships through communication with each and every one of his patients. He came to believe that the actual work involved in restoring people's mouths to good health, was only a fraction of the true benefit to providing people with good oral health and a lasting smile. "This is often only the beginning of a rewarding process that allows people to get on with their life and opens doors many of them would have never have had the confidence to walk through." Dr. Miller recognizes that each patient, from every walk of life, brings with them a specific and unique set of circumstances, experiences, and concerns that need to be heard and understood in order to provide them with correct, personalized, treatment options.
During his career, Dr. Miller has had the opportunity to perform services in multiple areas of dentistry including root canal therapy, alveolar surgery associated with multiple extractions, and complete denture placement, as well as restorative and cosmetic dentistry treatments. Additionally, Dr. Miller has been able to provide treatment to people of all ages, various socio-economic and ethnic backgrounds. Between the years of 2004 -2008 Dr. Miller had the opportunity to leave the private practice environment and serve as the Dental Director for two non-profit organizations in both Maui, Hawaii and Jacksonville, Florida. As Director of Dental Services for the Sulzbacher Center in Jacksonville Florida, Dr. Miller partnered with the University of Florida Dental School as a "visiting faculty" member. During this time, Dr. Miller worked with The University of Florida Dental School to develop an internship program for their dental students. The students were able to participate in the treatment of patients at his clinic which provided the students with valuable clinical experience and training. Dr. Miller highly values and feels strongly that his work with the underprivileged citizens in Jacksonville, the underserved Hawaiian population in Hana, Maui, as well as those who seek high-end cosmetic treatment has allowed him to more fully understand and relate to people from many different and often diverse backgrounds.
Dr. Miller's primary focus in dentistry today is on family, restorative, and cosmetic dentistry. Whether it is a single tooth, or multiple crown and bridge restorations treated under sedation dentistry, he is able to tailor your treatment to address all of your specific needs. While working at Libby Dental, he and the team can provide all phases of Dentistry in a state-of- the-art facility, all in one location.
Out of the office Dr. Miller is active with his two boys, Griffith and Asher (ages 14 & 10) and his spouse Tammy. His wife and two boys stay active in local sports, clubs, surfing, and participating in most of the activities that make the southern California lifestyle so fulfilling. His passion for the outdoors, mountains, boating, beach, and love of Hawaii, make living in Mission Hills in San Diego the perfect location to enjoy it all.
Dr. Miller looks forward to meeting you and being given the opportunity to work with his team at Libby Dental to provide you with a fantastic dental experience.