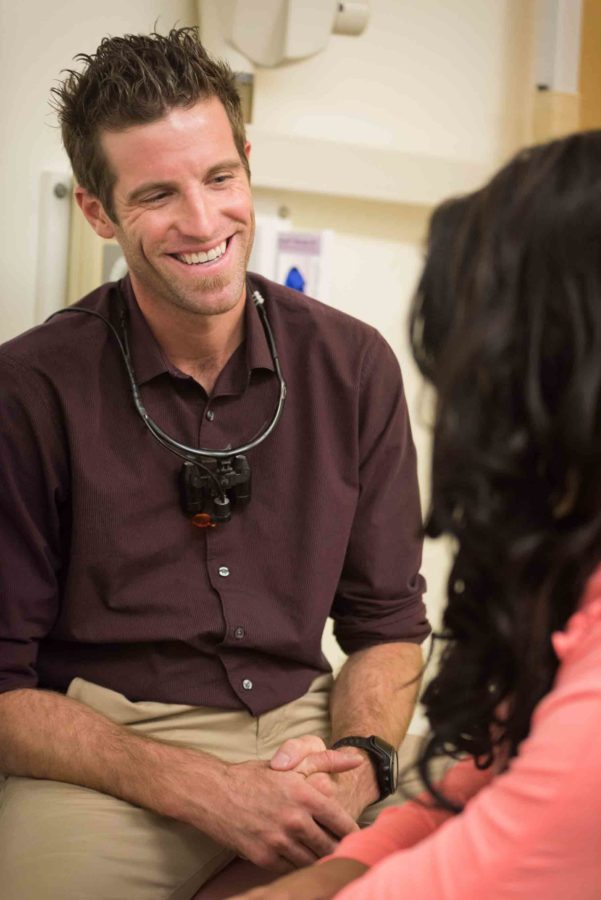 Meet Dr. Libby
Dr. Libby isn't your ordinary family dentist in San Diego. Hailing from a family of dentists–his father, brother, and wife are all in the industry–he grew up seeing the impact dentistry can have on people.
Dedicated to dental excellence and the pursuit of creating the ideal patient experience, he utilizes cutting edge technology and progressive thinking to deliver the most functional, esthetic and long lasting dentistry possible for his patients. He enjoys cosmetic dentistry including veneers, crowns, fillings, placing and restoring implants, as well as being proficient in dental surgery and endodontic treatment.
Fun Facts About the Doctor
Having grown up in a unique environment of responsibility and the extremes, Dr Libby loves the art of life and what it can offer.

Alaska Native
Born and raised in Anchorage, Alaska, Dr. Libby honed his outdoor skills flying, racing bikes, skiing, kite-surfing, and camping.

Volunteer in Africa
Dentistry is needed all over the world. Dr Libby's background is full of mission minded dental trips to Kenya, Fiji, Nicaragua, Peru, and Mexico.

Captain Dentist
Dr. Libby spends a few weeks every summer in Bristol Bay, Alaska in a commercial fishing boat that he shares with his brother.
Alaskan Origins
Dr. Landon Libby was born in Anchorage, Alaska into a family of dentists.
"Growing up, I got to see the impact dentistry can have on people, and how a healthy smile can move and inspire others. As a dentist, I get to be an artist and an engineer, a psychiatrist, and a friend. Seeing that was important to me–that I can make someone's life feel better."
Outreach In Africa
Serving free dental care to the underserved abroad in Kenya, Fiji, Nicaragua, Peru, and Mexico.
As a board member of the World Health Dental Organization, Dr. Libby, his parents and his brother enjoy finding new ways to serve communities who otherwise do not have access to good oral care. Dr. Libby has serves at the Maasai Clinic and is the current president of NASDAD, (National Association of Seventh Day Adventist Dentists).
Catching Fish
Have you asked your dentist about salmon season yet?
Inseparable in dental school, Dr. Libby and his brother, Dr. Justin Libby, still enjoy a day out on the boat in their hometown. The two brothers both have a taste for adventure, and salmon! The two brothers enjoy catching up on the boat, running their commercial salmon fishing business.
COMMUNITY SERVICE
He also has deep roots in service. He volunteers at St. Leo's Clinic in Solana Beach and speaks at San Diego State's dental club to motivate students and get involved with their Flying Samaritans program.
Currently, Dr. Libby serves as president of the National Association of Seventh Day Adventist Dentists (NASDAD) and sits on the board of the World Health Dental Organization Board of Directors (WHDO), where his father is President and his mother is Executive Director. WHDO is a nonprofit organization provides free dental care to the underserved in Kenya so that they may lead healthier and more satisfying lives.
Get Started With Us Today!
If you are looking for a dental experience that brings you peace of mind, come to Libby Dental. Our goal is to provide relief, make you feel comfortable, build trust, and form a true connection that lasts. Whether it's restorative or cosmetic dentistry that you need, we will have you walking out of our San Diego dental office grinning from ear to ear.