Secure Dentures from Your Local San Diego Dentist!
Is it time for you or a loved one to regain your smile and oral health with a full set of teeth? Dr. Landon Libby, our Mission Valley dentist, offers a revolutionary spin on dentures, the classic tooth restoration option. With implant-supported dentures, your restorations can be as secure and comfortable as your natural teeth. You'll feel so much better with a smile that makes room for your confidence!
As your family dentist in San Diego, Dr. Libby takes pride in our patients embracing life more confidently with smiles that look and feel like they've never lost any teeth! If you are looking for dentures that look and feel natural, we encourage you to give us a call at (619) 789-5519 to schedule your consultation for implant dentures.
Options for Denture Wearers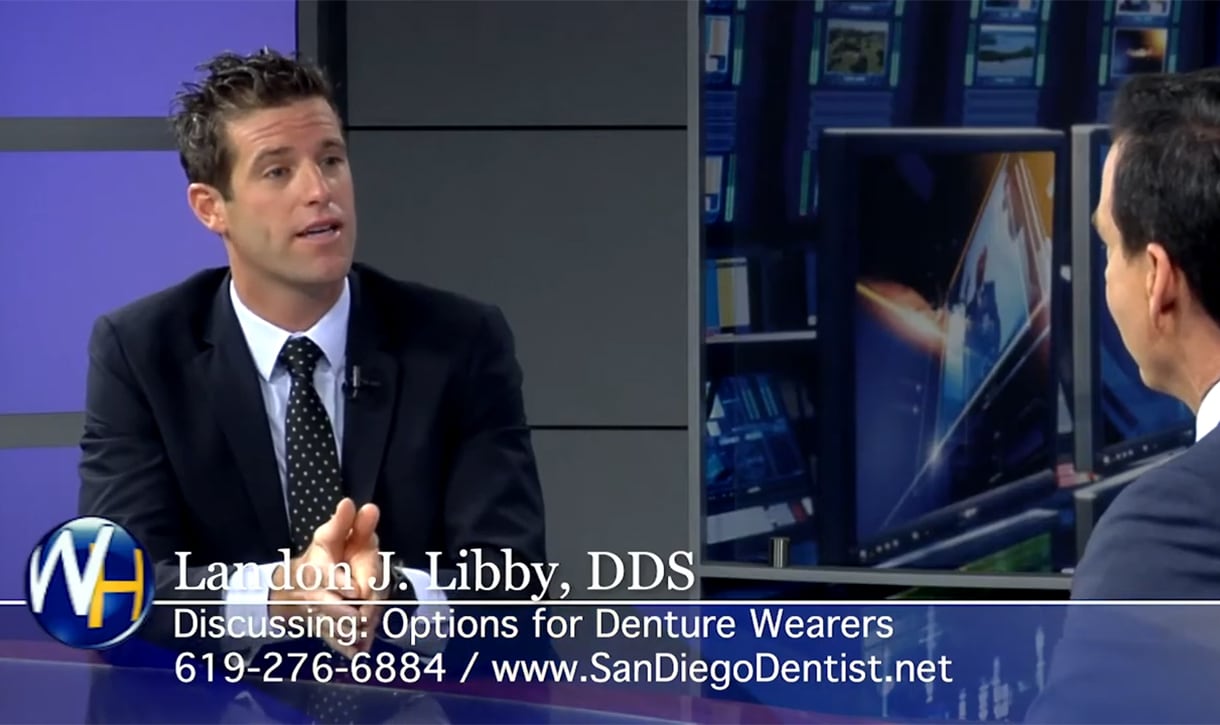 Why Get Implant-Supported Dentures at Libby Dental?
Dr. Landon Libby isn't your ordinary dentist in 92110! In fact, by incorporating state-of-the-art CEREC® technology into their full-service dental office, the team at Libby Dental takes a personal approach in maintaining your dental and oral health. We take pride in creating unique denture sets that make our patients feel like they have their old smiles back! The snap-on dentures that we offer improve the traditional model in every way, so patients are able to enjoy a fully restored lifestyle as well as a new smile.
From designing beautiful same-day teeth to creating comfortable, natural-looking dentures, everything we do starts with getting to know you and partnering with you throughout the process of restoring your smile. If you or a loved one has suffered from tooth loss, we will help you find a solution that will best suit your lifestyle.
Are Implant Dentures Right for Me?
Implant dentures can be a great way to replace entire rows of teeth, but the technique isn't for everyone. Since gaining the security of implant dentures requires oral surgery, treatment may not be beneficial for individuals who have too much bone loss or who deal with certain medical conditions, such as osteoporosis. This tooth replacement option is most successful for patients who:
Want a more stable alternative to removable dentures

Have enough jawbone support to support dental implants

Are in good health and can withstand the healing process

Are non-smokers or willing to quit smoking before and after implant surgery
If you don't have enough bone density to replace all of your missing teeth with individual dental implants, options like All-on-4® or implant dentures can be very effective. Dr. Landon Libby and our dental team can evaluate your unique needs and determine the most efficient, natural-looking solution to achieve your goals.
How Much Do Implant Dentures Cost?
Patients' needs vary widely with implant-supported dentures, so the cost of treatment also differs from person to person. The cost of implant dentures is determined on a case-by-case basis depending on the specific details of each individual's treatment plan, such as:

The number of dental implants required

The techniques and treatments utilized, including procedures like gum disease treatment or

dental crowns

Whether a bone graft was necessary

The complexity of your treatment plan
Our office will be able to give you a personalized quote once your needs are assessed in person. Please don't hesitate to ask our team about dental financing options such as CareCredit®, which can provide qualified patients with affordable payment plans that can accommodate their unique budget.
Questions? Contact Libby Dental to book an appointment or to speak with our skilled team about replacing your missing teeth.
Dr. Libby and his team are awesome. I don't mind going to the dentist now because they do such good work and always keep me comfortable

Rhyan W.