If your teeth are a little weak or you need some extra tooth protection after a root canal, it's smart to think about preservation. We provide beautiful dental crowns and other high-quality restorations to patients in the San Diego community. Crowns can be placed in conjunction with dental implants, bridges, or as a standalone treatment to address tooth decay or a dental injury. Dr. Landon Libby, our cosmetic dentist, may suggest an implant, bridge, or a single-tooth crown depending on the nature of your concerns. Don't hesitate to book an appointment with our friendly team today! We can explain the treatment process so you understand what to expect, and/or go over all of your options so you can make the best decision for your smile.
What Benefits Do Dental Crowns Offer?
A dental crown is incredibly versatile and often used in conjunction with other treatments, such as bridges and implants, in addition to being utilized alone. On top of offering strength and protection, dental crowns may also be manufactured on the same day as your appointment using the CEREC® system. In general, a crown can be placed to:
Restore chewing force after tooth decay or damage
Improve the strength and shape of a tooth
May help you avoid a tooth extraction, or reinforce a tooth after an extraction
Preserve more of your original tooth structure
Help replace missing teeth by anchoring a dental bridge or topping an implant
Dr. Libby and our talented dental team will examine your teeth to determine the best solution to restore the form and function of your smile. In cases wherein the extent of damage does not necessarily warrant a dental crown, our practice can also use inlays, onlays, cosmetic bonding, and tooth-colored fillings to address your concerns. We are committed to finding the most ideal treatment option for you based on your unique needs and goals.
Is a Dental Crown Right for Me?
A dental crown can help a wide range of patients affected by tooth damage or decay. This restoration is most successful for individuals who have more decay than a simple cavity, but who do not need a tooth extraction or root canal. If your concerns are too severe to be repaired with a tooth-colored filling, inlay, or onlay, we may recommend a dental crown to fully reclaim form and function. While there is some preparation necessary before your restoration is placed, our dentists strive to preserve as much natural tissue as possible.
How is Treatment for CEREC® Same-Day Dental Crowns Performed?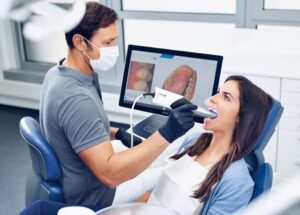 Have you ever heard of same-day teeth or one-day crowns? Our CEREC® dental crowns process is simple to understand and even easier to experience for yourself!
That's right! With advanced CEREC® technology, we can mill your custom dental crown in our own office in just minutes — without waiting for a dental lab. Not only will you get to avoid a goopy impression, but you won't need a temporary crown either. It's less mess, less stress, and all the benefits of dental crowns customized for your needs.
At your appointment we'll capture a goop-free, 3D impression of your teeth to map out the best size, shape and fit of your new dental crown with precision CEREC® technology. Watch our CEREC® milling machine custom build your dental crown from strong porcelain or composite resin. Then enjoy your new smile after we place your very own CEREC® crown!
How Much Do Dental Crowns Cost?
The natural average cost of a dental crown falls between $1,000 and $3,500 per tooth, although factors like your geographic location and the experience of your dentist may affect the cost estimate. The actual price depends on details unique to each patient, such as:
The type of dental crown fabricated
The location of the affected tooth
The complexity of treatment
Our team can provide you with a personalized quote after your consultation, where Dr. Libby and our dentists will be able to examine your concerns. If you have out-of-pocket costs not available for insurance coverage, please don't hesitate to ask our Mission Valley office about potential financing options.