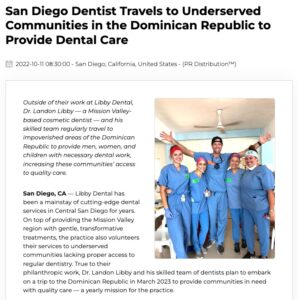 Outside of their work at Libby Dental, Dr. Landon Libby — a Mission Valley-based cosmetic dentist — and his skilled team regularly travel to impoverished areas of the Dominican Republic to provide men, women, and children with necessary dental work, increasing these communities' access to quality care.

San Diego, CA — Libby Dental has been a mainstay of cutting-edge dental services in Central San Diego for years. On top of providing the Mission Valley region with gentle, transformative treatments, the practice also volunteers their services to underserved communities lacking proper access to regular dentistry. True to their philanthropic work, Dr. Landon Libby and his skilled team of dentists plan to embark on a trip to the Dominican Republic in March 2023 to provide communities in need with quality care — a yearly mission for the practice.
In addition to performing popular cosmetic dentistry treatments at Libby Dental, such as teeth whitening and CEREC® same-day crowns, the practice also treats common dental problems such as cavities, gum disease, or missing and severely damaged teeth. These are some of the very same concerns addressed for patients seeking care in the Dominican Republic. "Our goal is to salvage teeth whenever possible," the practice comments. "Also, any patient who has broken or missing teeth — we do our best to replace them to help [patients] be in a more presentable state to obtain a job, especially since the tourism industry is very popular in the Dominican Republic. We also provide cleanings for any patient who would like one."
When asked where they will be providing care, the team states that they typically work in the impoverished areas of Santo Domingo, but also travel "… to rural farm villages, city centers, and everywhere in between. For example, last year we worked in a village where farming was the main source of income. On day two, we worked in a small city near local businesses and schools." During their upcoming trip, the practice will also be able to mentor local dental students through hands-on treatments supervised by American dentists.
This mission-minded work is integral to the practice's philosophy of spreading goodwill through dentistry. "My favorite part about traveling abroad and doing dental work is that regardless of the conditions…we're still able to provide quality dental care for [patients]. They are so appreciative to be out of pain, or to feel more confident about their newly cleaned teeth." Dr. Libby and his team comment that they're proud to be able to provide top-of-the-line treatment to every person who wants to feel more healthy and confident in their smile, whether they're seeking care abroad or in the heart of San Diego.
About Libby Dental
Led by cosmetic dentist Landon Libby, MD, Libby Dental provides cosmetic, restorative, and family dentistry treatments for San Diego patients. With a practice philosophy encompassed by gentle care and lasting relationships, Libby Dental offers popular services like porcelain veneers, gum disease treatment, dental crowns, and Invisalign® to enhance patients' smiles. The team at Libby Dental strives to redefine what it means to "go to the dentist" by making patients feel as relaxed, stress-free, and happy as possible during their visit. This is accomplished using conservative treatments and state-of-the-art dental technology, such as sedation dentistry, CEREC® same-day crowns, and laser-assisted dentistry, among other techniques. Dr. Landon Libby is available for interview upon request.
For more information, please visit libbydental.com, facebook.com/libbydental, or @drlandonlibby on Instagram.
Contact:
Libby Dental
2333 Camino del Rio S, Suite #310
San Diego, CA 92108
(619) 276-6884
Rosemont Media
(800) 491-8623
www.rosemontmedia.com