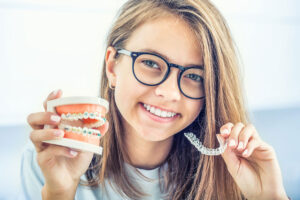 In the past, straightening your teeth was considered a time-consuming, uncomfortable, and potentially embarrassing endeavor. With traditional metal braces using brackets and wires, patients had to contend with gum irritation and a restricted diet. On top of getting poked by the metal wires and brackets, those with braces also had to deal with discomfort when brushing and flossing between their teeth. Perhaps most intrusive of all, metal braces obscure a patient's smile and can create insecurity when smiling, eating, or speaking. Fortunately, modern orthodontic systems like Invisalign® aligners can eliminate many — if not all — of these inconveniences. 
When it comes to orthodontic treatments, San Diego dentist Landon Libby, DDS offers Invisalign® clear braces to provide a highly effective and convenient method of correcting one's smile and bite. Invisalign® aligners are removable, allowing patients to simply remove them when eating and cleaning their teeth. This gives individuals the opportunity to undergo treatment while still enjoying all of their favorite foods. Best of all, clear aligners do not interfere with a patient's smile, making clear braces especially popular among teens and adults alike. Invisalign® can also provide additional benefits when compared to traditional braces, including: 
Fewer dental appointments throughout treatment process
Can treat the same concerns, such as crowding, misalignments, underbites, overbites, cross bites, and open bites
Invisalign® may not be the best option for all patients, but clear aligners have provided countless individuals with beautiful results in a more convenient process than traditional braces and other solutions. Rest assured that our team will work with you closely to find the most optimal orthodontic system for your unique concerns.  
Dr. Landon Libby and our talented dental team are committed to assessing your needs and developing an ideal treatment plan to achieve your goals. Contact Libby Dental at our Mission Valley office today to book an appointment or to speak with a friendly member of our team.