Aesthetic Restorations in San Diego
If you've lost one or more teeth or need a little TLC after root canal therapy or a restoration, think smart; think preservation. We provide beautiful crowns and bridges to the patients in our community.
Crowns can be used with dental implants, dental bridges, or on their own to repair tooth decay or a dental injury. Dental bridges can restore a bite to improve your quality of life.
Depending on your unique needs, our cosmetic dentist may recommend a dental implant, dental bridge, or single-tooth crown. Schedule an appointment with us today! We can walk you through what to expect, so you can make the best decision for your smile.
Video Image Placeholder
Our CEREC Same-Day Crowns Process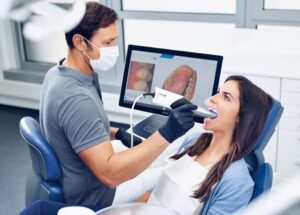 That's right! With advanced CEREC technology, we can mill your custom dental crown in our own office in just minutes — without waiting on a dental lab. Not only will you get to avoid a goopy impression, but you won't need a temporary crown either. It's less mess, less stress, and all the benefits of dental crowns customized for your needs.
Have you ever heard of same-day teeth or one day crowns? Our CEREC crowns process is easy to understand and even easier to experience for yourself!
At your appointment we'll capture a goop-free, 3D impression of your teeth to map out the best size, shape and fit of your new dental crown with precision CEREC technology. Watch our CEREC milling machine custom build your dental crown from strong porcelain or composite resin. Then enjoy your new smile after we place your very own CEREC crown!